I saw How To Train Your Dragon. In Danish, because we saw the trailer and thought it looked more fun in danish. The movie is about Hiccup, a viking. Danes used to be vikings, so we thought it was appropiate to watch in in Danish.
It takes place on an island, where there exists dragon. Vikings and dragons have been fighting for over 300 years, and the children are trained to kill dragons.
Hiccup here is the chief's son, and he's not really the usual viking. He is way too soft and not at all muscular. The other teens think he's a nobody and his father doesn't pay attention to him. He wants to change all that and become one of THEM, all the other vikings, so he tries to shoot down a nightshadow, the most feared dragon. He suceeds and it falls down in the forest. When he finds it he can't kill it and sets it free. He manage to tame and befriend the dragon and names it Toothless.
He become famous in his tribe because he suddenly knows a lot of tricks to tame dragons, so in dragon training he always seems cool. When he tries to tell his father about the dragons not being as the vikings believe, his father brushes im off and go to kill off all the dragon in their nest. Hiccup wants to stop him and SAVE THE WORLD.

I really, really, reaaaaalllyyyy love this movie. It was funny, frightening, touching and loveable. I'm going to watch it in the cinema again no doubt. It had everything a movie needs and more.
The 3D was the best I've seen yet. It works best with all-animated movies, and there wasn't a frame without 3D-effect.

Desert Flower is about Waris Dirie, a woman from Somalia. The movie is based on real events and a real woman.
Waris ran from home in Somalia, when she was going to be married off to an old man as his 3-4th wife. She flees to London and works at the Embassy of Somalia there. When war breakes out in Somalia allt he people at the Embassy go back, but Waris stays and becomes homeless. After some harsh days she end up in an appartement with a unhelpful British woman.She learns better english and get a job at a junk food restaurant. There she is spotted by a fashion photographer.
Waris becomes a supermodel.
Trhough her position as a known face all over the world she begins to talk about the horror of female genetial mutilatio
n. She was cut herself and created huge debate about the human right of women to keep their genitials.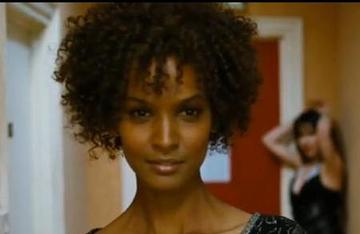 It was a terrible movie to watch. It was kind of cruel a lot of times, and you only wanted to keep on watching because their were funny and peculiar parts of the movie that lit everything up and gave hope. It was a very good movie.
Tough, harsh and marvelous. That's how it should be described.
Astrid and I agreed that this is a movie that the whole world should watch, to become wiser.
And also, the woman playing W

aris -

Liya Kebede

-

is gorgeous. I found myself staring at her beauty a lot of times.