For my birthday I wished for money from my family because I wanted to buy a very special hand bag. That bill says "Happy Birthday Liv!" And today I spent them all.
This is my excited face. And my attempt at being a bit stylish, so that the clerks in Louis Vuitton wouldn't give me dark looks, haha.
And I came home carrying the most expensive thing I have ever bought. Oh wow, it seemed so odd to have used so many kroners in just one day. Still does. But I have been adoring these bags for 3 years now.
Certificate and wrapping bag... And my baby in all its glory. It's a Speedy in size 35.
Seriously, I am so happy right now haha. The after-purchase chock has subsided a bit and I think I am ready to fully enjoy my new acquirement.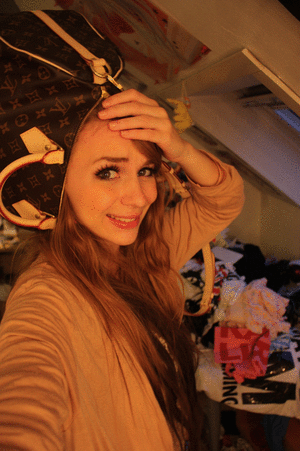 How to make gifs
What am I doing? I don't even bloody know. The bag is multi-attributive - can also be used as a hat! (?)
Happiness gives the oddest of reactions you know.
<3**