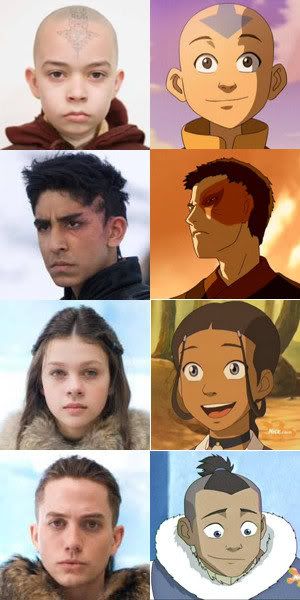 I went to see the Avatar movie yesterday with Line. We'd really been looking forward to seeing this, even though we kind of knew we'd be REALLY disappointed. We were prepared to sit like "NOOO OH GOD, MAKE IT STOOOP" throughout the whole movie. But turns out it really wasn't so bad!
SPOILER ALERT!
Haha, this was my starting point. I was really negative when the movie started. But then it started with the sillouhetes doing the 4 kinds of bending, the same as what the series open with in every episode! And then Line and I was jumping up and down in our seats happily haha.
The worst thing in the movie is that all Fire Nation are all Indian people! I mean, it is really clear in the series that they are chinese, japanese or something like that! They have slender bodies and faces, leaning eyes and their skin color is yellow-ish. So them beind Indian is really just wrong. Plus they are wearing classic chinese-ish clothing in the movie too, and... yeah. Just wrong.

And then their uniforms! (still talking about Fire Nation) They were really kind of western instead of being asian as they should be. Also, the series' uniforms are really nicely designed, so I was counting on the movie having just used those!

Moving on to Appa. In the series he is just so funny, cute and cuddly.

When I first saw him I was like YESSS, because we saw him from behing. But when we saw his face Line and I was like URG. It just looks odd. When I look at the animated Appa now they kind of look very much alike, but it just still seems off with that face. I don't really know why though.
So my opinions about the movie:
- Indians are a no-go and their clothes and uniforms sucks (it looks like cosplays)
- Aang's tatoos was great. It wasn't a blue arrow, but the small signs forming an arrow was more realistic, and therefore all right.
- Katara was so not hardcore and Sokka wasn't funny and Jackson didn't play him very well (which they should have been). Plus, they had perfectly white skin, while they should have been tanned.
- Aang was kind of nicely casted. He had his PERFECT moments and that was great. The same with Yue.
- Zuko's scar was way too small
- In the end of the first season in the animeated series Aang becomes a giant monster because of the death of the koi fish (Moon Spirit), THIS:
But that didn't happen at all. I had been waiting for it the whole movie! He just bended the water. LAME.
- The bending was A-MA-ZING! Probably what made the movie not suck.
- The story was kind of confusing and rushed, but that was fine, because we could remember all the parts the movie skipped, haha. But for those who haven't watched the animated series, the movie would probably be very confusing. You didn't really get to know the persons either, only slightly Aang and Zuko.
So I didn't hate it, but I didn't love it either.
This was my outfit. I really like that dress !!
Wow, loooong post. Sorry, haha.
<3**>