So I went to watch Sucker Punch with Louise this Monday to end the Easter holiday with a proper farewell. We both really wanted to watch it and thought it was a brilliant idea to go watch it together - real girl power!
I hadn't even watched the trailer and didn't know anything about the movie. I only saw in Empire some months back that they blew the movie up in the same manner as they did with Scoot Pilgrim - which was incredible - so I knew I'd like it. Also because Zack Snyder rocks.
And then the movie opens with a "sweet dreams are made of this" intro. And I was hooked on the movie. That's all it took - 3 seconds in order for me to recognize the song.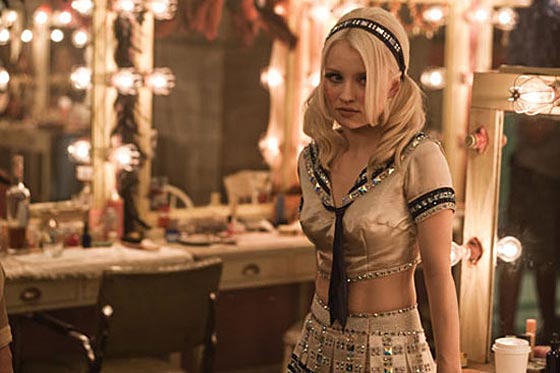 I loved the character/costume designs! So different from each other but still working really well together.
The best thing was how the girls used both old school and modern weapons - that way we had no way to figure our what time period we were watching. Which was also the case for the whole movie - I still have no idea about the era, but I guess that is sort of the point.
We sat with tense bodies and completely open eyes throughout the movie. And sometimes talked about the make-up or hair styling. It was really amazing! Kind of reminded me of Burlesque at some points.
It was a dizzy-making experience. Kick-ass meets Inception. And the fact that only guys sat in the cinema with us only improved this sentiment.
I also watched Red Riding Hood during the holiday - this time with Line. It wasn't all that bad. I had feared worse. But I won't say it was good either, haha.
The wolf was nicely animated and I actually got caught up in the plot (who's the wolf? That dude! No, her! Or is it him???!) so I guess that gives the movie some points.
But then there was the two-guys DILEMMA thing which reminded me too much of the Twilight "Jacob-Edward"-thing. And I could really tell it was the same director as the first Twilight, haha.
Yes, go burn each other lads.
<3**