Did I tell you guys about the fantastic end of term I had before the Holidays started? No? Oh, then I must attend to that before going on about my Christmas Eve...
During the weekend we had our Christmas lunch/party. Marcus had borrowed his work's cantine so we did not have to rent a place which was really nice!
We ate together and then went on to play "pakkeleg" (gift game, where you have to steal other people's gift when you get a 6 on the dice).
I started with three gifts, but then they were all stolen! Luckily I gained two more, haha. One contained chocolates (yum, yum) and the other contained a pack of brownies with a post-it on saying: "For the lazy day." Then there were also a baking book, which post-it said: "For the active day." It was a really cute idea!
And did I mention that I accidentally broke the table? The whole room just went silent and then everybody cracked up. Of course it was fixable.
In some of the gifts from the pakkeleg there were various object that could be worn... so of course we did. For example the multi-coloured beards.
We look fabulous!
Sexy Christmas babes! ... or is that a reindeer? (btw, that nose and those ears were the gift I'd purchased!)
And the excellent times continued! Monday we watched Shakespeare in Love in school and then the whole class went to Tivoli Gardens in the evening! I was so happy to be back, since I had not brought my camera the last time - and you know... it is wonderful in there.
I met up with Rie and Maria and we tried to win some chocolates... without any luck.
And Maria even betted on her birth date! But no, apparently that was not enough to bring luck on our side.
Darkness quickly fell and made the gardens the most magical place filled with all sorts of lights. I love lights - it's the best thing about Christmas.
And look at the Chinese theatre! That is magnificent, it is. It was glittering and icy and we couldn't take our eyes away from it, haha. Also because of the cute reindeer in front of it.
The white castle dolled up for Christmas and its reflection on the way to the Russian-themed area.
One of the houses in "Moscow". Inside was a restaurant selling Danish Christmas food and angels and bears. I found the bears cutest, hence them being here.
The liiiiiights <3
And then we ate "spanskrør" (I have no idea what they are called in English, but apparently they are called chi-chis in French). Tivoli and other amusement parks are kind of the only places where you can get them, so it's a must for a lot of my friends to eat when we a finally in there. It tastes of childhood!
The Demon (an attraction, roller-coaster) went red when the wagon rolled past! Otherwise it was blue. It was really funny to look at.
Slowly we met up with the rest of the party and goofed around.
But the reason why we were in Tivoli was actually that we were going to watch the Crazy Christmas Cabaret with our English teacher. And with the ticket in hand one could get free admission to the park!
The CCC is a comedy show written by Vivienne McKee and every year a new one is performed around Christmas. It's Danish humour but is entirely spoken in English! Also, the audience is highly active during the show - we had to yell and dance.
This year's play was called "Below the (equatorial) belt". It was set in the city of Belowdabelt in Africa and all the jokes were below the belt.
The second act begun with him singing "The Circle of Life" and boy, could he sing!
I was laughing at some points, but it was a bit too much at others. They had a man dressed up as a woman and I do not find that funny - it's really just lame imo.
It was very well-made though. I liked the fact that they were only 5 people acting and a lot of brilliant characters passed the stage.
My favourites were the monkeys! There were two, a male and a female, and they were named Hip and Hop and everytime the appeared on stage the Rapper's Delight (
I said a hip hop the hippie the hippie to the hip hip a hop and ya don't stop)
started as their jingle, hahah. It was excellent!
And Oscar from my class was dragged up on the stage! He's the guy in front with the basket on his head! Brilliant stuff - even though they do it for every show.
And the last day of school we had pakkeleg once again.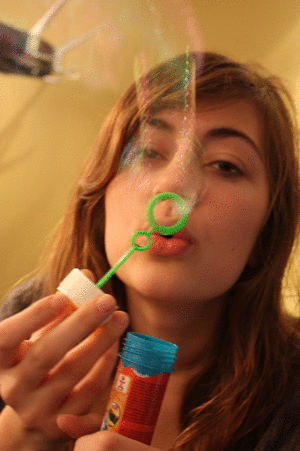 Look how nicely wrapped the one I got was! And the contents weren't too shabby as well.
Bubble-mania! We went to a café after school and talked for hours before heading home. The end of term is always a bit odd. Saying goodbye in a way.
<3**