If you want to be a bender - let go of fear
by ~
Liv-is-alive
on
deviantART
J-popcon 20011 is now over and done for! It was held from the 11-13th, but I've been busy with school since the convention... But here it is. My con:
Thursday
Astrid
came to my place from Jutland. She usually sleeps with me during conventions, but this year she'd decided to sleep with her Homestuck cosplay group. It was really weird for both of us - such a change! But really nice that she somehow started the con with me anyway <3
I did the final touches on my Katara cosplay (did I forget to tell you about this cos? I think I did) too - Astrid was so baffled to see me all calm and relaxed while working on the cosplay the night before j-pop, haha.
First photo by Dario.
Then Friday we went to the con real early to get our admission-bracelets. Then we went home to change into cosplays. Mickey came to get all dolled up with us and then we went to the city together. Mickey = my Tarzan. I was really happy about my Jane and the way it was received by the other con-participants were just dizzy-making. I've never experienced anything like it - I was stopped so many times.
Second photo by Ali Jehad.
I was actually in a small cosplay group alongside
Abena
,
Sørine
, Ariellah and
Line
/
Dario
as Flynn Rider. We were all very excited to see each other, since we hadn't seen the completed cosplays pre-con.
By Jakob Andreasen and Rasmus.
My girls! I get happy just seeing these photos.
And yes, that is Turk. I won her when I was like 3 years old in a drawing competition. And it seemed so fitting to bring her!
Bàra was cosplaying Jimbo and was therefore a surprise addition to our group! I had a fangirling fit when I saw her... It was really embarrassing. I just love Treasure Planet to death!
And that Kick-ass was amazing. The way he moved was just SPOT ON!
Saturday it was time for the cosplay show. I had been looking so much forward to getting up that stage, since the last time I performed was at SVScon 2010! I walked around with a odd smile on my face all day long just because of the anticipation.
Sabine
told me I was annoyingly un-nervous, haha. And it felt so good to have done it again when I got down from the stage!
And in the beginning of the video I'm just saying that I'm named Liv, what I'm cosplaying and that I'm in high school - BLEEEURG.
By Laila Lykke Rasmussen and Sarah Huong Krüger.
Water bending like a boss! (?)
The level of the competition was really high. I enjoyed pretty much all of the acts and was blown away by a few. Proud to be a Dane!
Samie and Yoshu (
Team Denamrk 2012 blog
) won the WCS and gosh, they earned it! Their act was amazing.
The judges were really nice and approachable. Sometimes it feels like such a pressure to have judges around you before the competition, but they were really down-to-earth and nice!
And then... I won! I'm now the solo representative for the ECG! I'm going to Japan Expo again! The best thing is that it's the girlies, the
Madoka group
, that'll be the ECG Team Denmark 2012. We were all at the Expo last year too and it's going to be so much fun!
Second is by Dario.
After the award ceremony all the winners and international guests went out to dine together. I sat at a table with Sigge from the ECG team, Sørine, Abena and the German girls! So we went a little bit Denmany.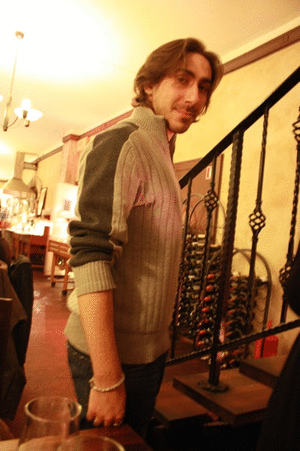 Ben and his crazy ability to get impregnated in 1 second.
Second is by Kaj Schulten.
After dinner I headed back to the convention for the
Deshima Sounds
nightclub! Jody and Kimberley were DJ'ing and dancing until 3, but I left for home around 2.
By Sabrina and Laila Lykke Rasmussen.
Sunday it was time for the J-fashion.dk fashion show! I was co-hosting with
Sascha
this time around, since gyaru and other japanese styles were now also included in the show (before it was "just" lolita)! We had a lot of fantastic models and even though the show was at 12 (early!) at lot of people showed up to see it.
After saying goodbye to the internationals and seeing people slowly leaving the con, I went to Wagamama with Sascha, Kenny,
Louise
and Dennis to eat some good food! It was delicious and we rolled home like katamaris <3
Sascha and meeee. Hosting a showwww.
And polaroids from Friday with Astrid and
Cecil
and from Saturday with Ben after winning (!).
It was a really great con. So many people! So many hours of epicness! But I was seriously wasted the following 4 days, hahah...
<3**