Saturday arrived. The anticipated day. And we had to get up at half past 4, urg. Abena helped me with the body paint and together we went to the dressing rooms at the convention. Then the morning rehearsal followed and after that the last finishing touches to the cosplays had to be done.
Spain was eagerly awaiting their turn as I slowly felt a bit nervous. After all over 15.000 people is a rather large amount. And the anxiety caused me to make a lot of mistakes since I'm not used to having stage fright... But I did go up there and did my best.
And I love a lot of the pictures that came out of it!
After the finals we relaxed - now the pressure was off! Some was filmed, some was photographed. And when the winners were announced I held Bell's hand as she got the solo 1st price - she didn't quite believe, so I had to push her a bit to make her go accept her price - and watched as my fellow Danes won a well deserved 2nd price in the group category!
By then we were all pretty tired. The vans had picked up us at 6.30, so everyone had been up at least at 6 o'clock. And then we had to wait forever for the vans to take us back to the hotel. It was beginning to get really cold and I could almost see the sickness approached but thankfully some of the more warm-blooded cosplayers lent their furs to the needing, haha. Abena looked so gorgeous.
After some hours of rest the European Snack Gathering (the ESG) opened to the selected public present and we all - organizers, helpers, former ECGs, etc. - enjoyed the fantastic mix of Spanish crackers, Dutch cake, Danish liquorice, Swiss chocolate and other national sweets. Everyone got a bit drunk and the atmosphere was light and happy.
The next day I went to tour the convention centre with my Danish ladies. They bought some much wanted figurines and I bought some French manga I'd been looking for forever. We took things very slow before heading to the dressing rooms.
Hardcore with Dragonball, Mona hardcore with Sakizo and hardcore at lunch!
I nearly fainted at the sight of that Amidala costume. She must be my first ever costume crush because my mom has a drawing by me aged 5 in this costume.
I took some snapshots of Sørine's lovely Misha and Abena's beautiful Tiana too!
And they took some of my flowing Leetah robe! I hung out with Diana with Sørine and Abena in the afternoon and got to know her a bit too. It was a lot of fun, her being all zombified, hahah.
After I de-body painted myself we went to the dinner-goodbye-party-thingy. We were a larger party than the club had been expecting, so they did not have enough chairs for us. But after a lot of exhausting days we just had to sit down and eat, so we went to....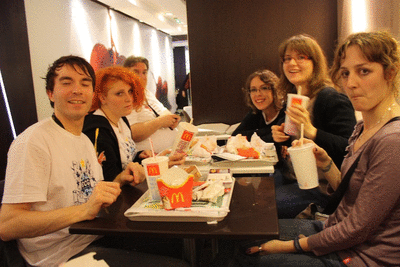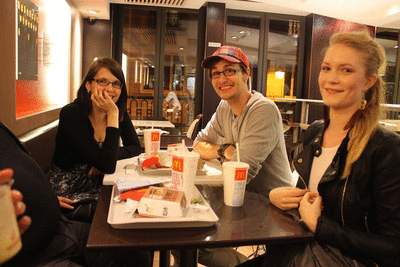 ... true and faithful McDonalds.... Yeah. But we had a nice time and returned to the club when our reserves were filled with energy once again.
Patrick and Ben said a few words of gratitude and we all had a nice time. And riiiight before we had to leave the real party vibe started to appear, but it quickly faded in the bus towards home, haha.
The talks that last night was so nice though. Grounded and filled with appreciation for the experience we had been given. I am so happy I got to meet so many wonderful people!!
The next morning nightmare à la change of hotel began. We got up WAY TOO EARLY after the week we'd had, waited for the delayed transit bus for almost an hour and got to the city. We had a bit of trouble fitting all of our crap in the train... That is me, holding on to the 3 paintings the girls won as their price from an exhibition at the convention, and 4 pieces of luggage in front/on/behind me. And oh yea, sleeping in my student cap. Fabulous, I am aware.
<3**